Locks Rekey Kent WA
Sometimes an entire new set of locks that requires boring new holes and more labor-intensive work and expense, all that is needed is a locks rekey. Re-keying is a process that provides an affordable locks service. It gives you security knowing you are the only one who has access to the set of keys that opens your doors, but doesn't require an entirely new locks change.
How Does Re-keying Work?
For a key to work, the bumblers inside need to match the cut ridges of the key. When locks are re-keyed, the tumblers are swapped out for new tumblers that only fit a new key. Re-keying uses existing locks and changes out the inner core, which is the part that recognizes the key to allow the lock to open or become secured. The outside hardware is left in tact, but a new key will be required to open a re-keyed lock. All of the old keys will no longer work to open and gain entry through the lock.
The inside cylinder, often referred to as the keyhole, is removed leaving the lock structure and hardware in place. The plug of the cylinder is what receives the key cut for that specific lock and holds the tumbler inside. Once the tumblers and new key are aligned, the locksmith will reassemble the existing lock.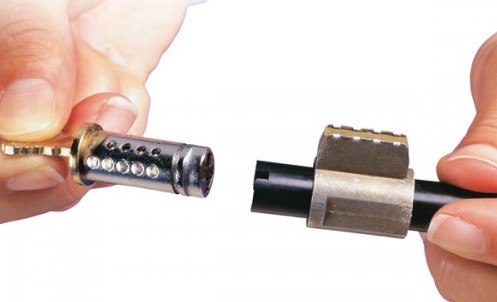 Why to Rekey Locks?
Some common reasons for choosing to lock rekeyed are:
Lost keys – If you cannot find your keys, they may be in the hands of a stranger. The only way to feel secure that your locks will only be opened by you or someone you trust with your key is to get new locks or re-key.
New Home or Office – When you move into a new space, chances are there are keys floating around out there in the hands of those whom the previous owner may have trusted, but you have no idea who they are. It's better to be safe than sorry by simply re-keying. your new home or office locks.
Recent break-in attempts – Whether or not the break-in was successful, if there are reported break-ins in the area, it's time to rethink your locks. The fastest, most affordable way to regain that feeling of security is with a locks re-keying. process.
Change of Life – Those who are going through a divorce, an employee quitting, or a roommate moving in or out, feel safer knowing that the old keys are no longer able to be used to access your space.
Rekeying is an excellent solution when you want the security of new keys but don't want the expense of changing out your locks for complete new systems. Re-keying is a solution only for customers who have existing locks in good condition.
Don't delay in securing your locks with a Re-keying Locksmith service ready to come to you. Call a reliable locksmith for all types of lock re-keying needs.
Our Kent locksmiths offer rekey locks service for residential and commercial customers. We are available 24 hours a day, 7 days a week and can be at your location in 25 minutes or less. Call us at (425) 329-6359 for any question or request.